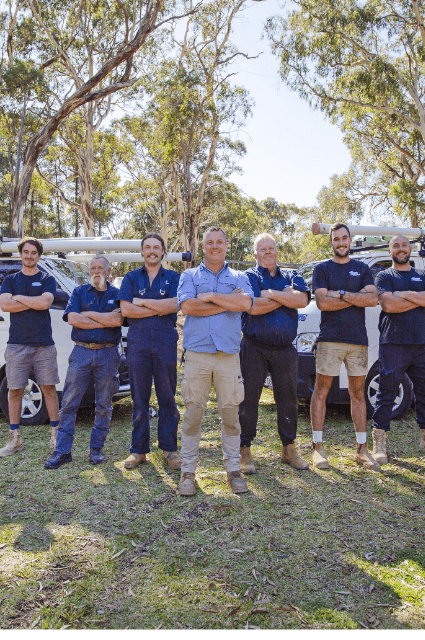 With Over 125 Years Combined Experience, We Take Pride In The Quality Of Our Workmanship
General Plumbing Frequently Asked Questions
A: Most likely you have a blocked drain or partially blocked drain. This could be in the consumer side or SA water side. We can help you find out what is happening and assist with getting it fixed or arrange SA Water attendance.
A: Each blocked drain is different. Although we can provide an estimate before the inspection, we can give you the final cost after we conduct a free on-site assessment.
A: Every person in the household should be mindful of what you pour down the drains, especially substances that can stick to the insides of the pipes. However, the best way to prevent a blocked drain is by seeking help from a professional to carry out the proper maintenance procedures.
A: Some homeowners think that their blocked drain will unclog itself. When left blocked up, it can get worse over time, and the water inside the pipes can cause a high build-up of pressure. That said, it is always best to consult the professionals.
Bathroom Renovations Frequently Asked Questions
A: Like any other renovation, the scope of your desired transformation dictates the duration of the project. Minor changes can be completed in just a few days, while a complete bathroom makeover may take weeks.
A: Good question. Bathrooms and kitchens typically get the best return on investment in a remodeled home. Even if you do not sell your home, renovating these important spaces will make your entire home more inviting and feel more comfortable for your guests.
A: Much like any repair and maintenance, the extent of the renovation will tell how much work is required and the cost of the transformation. For us to give you a quote, we can have a free on-site assessment and discuss your project.
Stormwater & Drainage Frequently Asked Questions
A: Thank you for your interest. Our team is excited to work with you. You can contact us to arrange a quote on a project by visiting our Contact page. Simply fill out the form and provide the details of your project.
Hot Water Installation Frequently Asked Questions
A: Ok, is it gas or is it electric? If it's electric, it's best to do a quick check and see if the power is on and check if the circuit breaker is tripped or blown. If it's gas, it's best to check if the gas is still turned on, and to do this, simply try to turn on another gas appliance. If there is no gas there either, it's likely that the gas meter is turned off. If you are not sure about this, it's best to leave it to us and give us a call now.
A: We install different types of hot water systems, and we only recommend the one that best suits your budget and needs.
A: Hot water repair and replacement are two different services; thus, each cost varies. Feel free to contact us so we can give advice on the best course of action and discuss the potential costs.
Gas Appliance Installations Frequently Asked Questions
A: Just because it's not working doesn't necessarily mean it automatically needs a replacement; it may only need a repair. However, the best way to tell which service it needs is by calling our experts for an on-site inspection.
A: Yes, we do. If your old unit is beyond repair, or if you need a gas appliance for your new home, our team is fully equipped to connect, disconnect, and service gas fittings. You can visit our Gas Appliance Installation page for more information.
A: Thank you for your interest. Our team is excited to work with you. You can contact us to arrange a quote on a project by visiting our Contact page. Simply fill out the form and provide the details of your project.
leesyl1
September 20, 2019.
Came out within the hour and repaired our hot water system. Very prompt and efficient service. Highly recommended
Johnny Flash
August 20, 2019.
Have used these guys a couple of times on each occasion explained to Brett what I needed done and no worries he had a plumber out the same day and job done to high standard at a good price.
Daryl Sowerby
June 29, 2018.
Have used Free Flow Plumbing for two services and they have been very reliable and professional. Did great work and I highly recommend them.
Kay Scott
February 12, 2018.
We have used Free Flow Plumbing for many years on our rental properties. The Brett and the team at Free Flow Plumbing are always prompt and courteous. Once notified of a job, they work in closely with our tenants so as to schedule the work when it best suits their needs. They not only do the plumbing work requested but also provide written feed back on the work undertaken plus identify other items that may require future attention. They are a reliable plumbing team and they also can provide a single point of contact for other building maintenance works such as carpentry, earth works, electrical, roofing, tiling, retaining walls concreting, gas fitting, painting, roof cleaning etc that we have used many times. I would have no hesitation in recommending them to other clients for a hassle free one stop shop to provide a total solution to your maintenance needs at an affordable price.
Brendan Pole
December 31, 2017.
Excellent work reasonably priced. Quite pleased. Great communication.